When:
August 26, 2017 @ 9:30 pm
2017-08-26T21:30:00-07:00
2017-08-26T21:45:00-07:00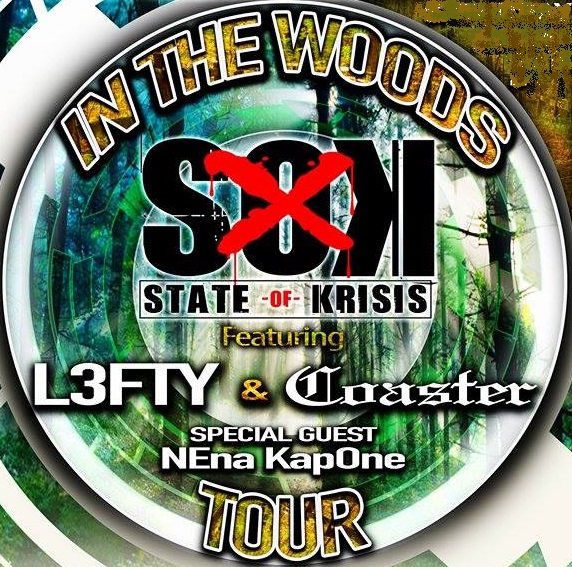 "STATE OF KRISIS"
Hip hop group from Washington state, comprised of "The Krisis", "Jack Skiles" and "Reverend DarkBlood", State of Krisis has been one of the most productive WA acts in the last few years. High energy, thought provoking lyrics accompanied by a excellent live performance, State of Krisis entertains hip hop fans of all genres.
Notable shows in the last few years include
Tech N9nes "Strictly Strange Tour" (Spokane)
Nappy Roots – SOLD OUT (Moscow, ID)
Afroman – SOLD OUT (Moscow, ID)
Nappy Roots, DJ Unk, Krizz Kaliko, Ces Cru, Kirko Bangz, and Brotha Lynch.
State of Krisis has performed in over 35 cities and 11 states in the last 2 years
NEW SINGLES
"Minutes"
https://www.youtube.com/watch?v=1rhJ_zs9A-4
"Grime Wit It"
https://www.youtube.com/watch?v=O7DGoLco2X4
Follow State of Krisis
Facebook :
https://www.facebook.com/stateofkrisis
Twitter:
https://twitter.com/stateofkrisis
Soundcloud:
https://soundcloud.com/stateofkrisis
TOUR SUPPORT INCLUDES
"L3fty"
L3fty​ is forging his way into the NW with countless show's with names including but not limited to – Nappy Roots, Obie Trice, Do Or Die, Krizz Kaliko, Stevie Stone, KUTT CALHOUN​, Prozak, Devin The Dude, Chris Webby, Adlib​, OverTime​, Lil Flip & More! 3 regional Tours, reaching as far as Montana, Oregon & Washington. Northwest Battleaxe Warriors​ Washington Division Leader & affiliate with Baxwar Global.
Making his entrance with his debut L3fty E.P. "Pain Motivates Change" dropping Feb. 24th, 2017. Mixed & engineered by Bad Cat Studios​, master by Sage Audio. Features include Ren Thomas​ of Sensi Starr​, ABOM​, Kace Cayne​, Mike DC, KP Tha 1 & Llosh of Cambered Souls​! Watch the OFFICIAL VIDEO for the first single "3 a.m." Directed/Shot/Edited by Ryan Herring​ and produced by L3fty!
"Coaster"
A young up and coming hip-hop artist who hails from Selah, WA. Known for his deep lyrics and creative style, Coaster has toured all over the Northwest. He's previously been on tour with the iconic legend Afroman, a tour with multi-platinum recording artist DJ UNK, as well as two headlining tours of his own. Coaster has released four projects in his short career – Brain Food (2011), Contagious (2013), The Outbreak (2015), and his most recent CD Never Again (2017). Apart from his busy music schedule, Coaster has recently been active in local schools, motivational speaking and performing for kids that range from elementary students all the way through high school. With no signs of slowing down, Coaster is sure to be one of the next big names to come from the Northwest hip-hop music scene.
"NEna Kapone"
Nena Kapone is a Hip-Hop artist from Tacoma, WA. She was bitten by the Hip-Hop bug early in life and began rapping at the ripe age of 12. She was influenced heavily by 90's Hip-Hop and the first track she ever rapped over was the instrumental to B.G.'s "Cash Money is an Army". In 2011 Kapone began to take her music seriously and she started a label and called it "Sumtin Different Entertainment". She released her first official mixtape and titled it "Sumtin Different Entertainment Volume 1". Kapone also recently dropped a new single titled, "DatNena" which was received so well that it even traveled across the Atlantic and she now has a following in London. Look for her new album with her wife titled "Out the Box" to drop later this year. Nena Kapone is an exciting, intense, fierce, sharp, diverse, lyrical monster. She has a unique style and her label has turned into a local movement. Nena has die-hard fans who support her wholeheartedly. She is a special blend of street, of woman, and of Klown. Get to know Nena Kapone's music and her label. There is nothing else like it.